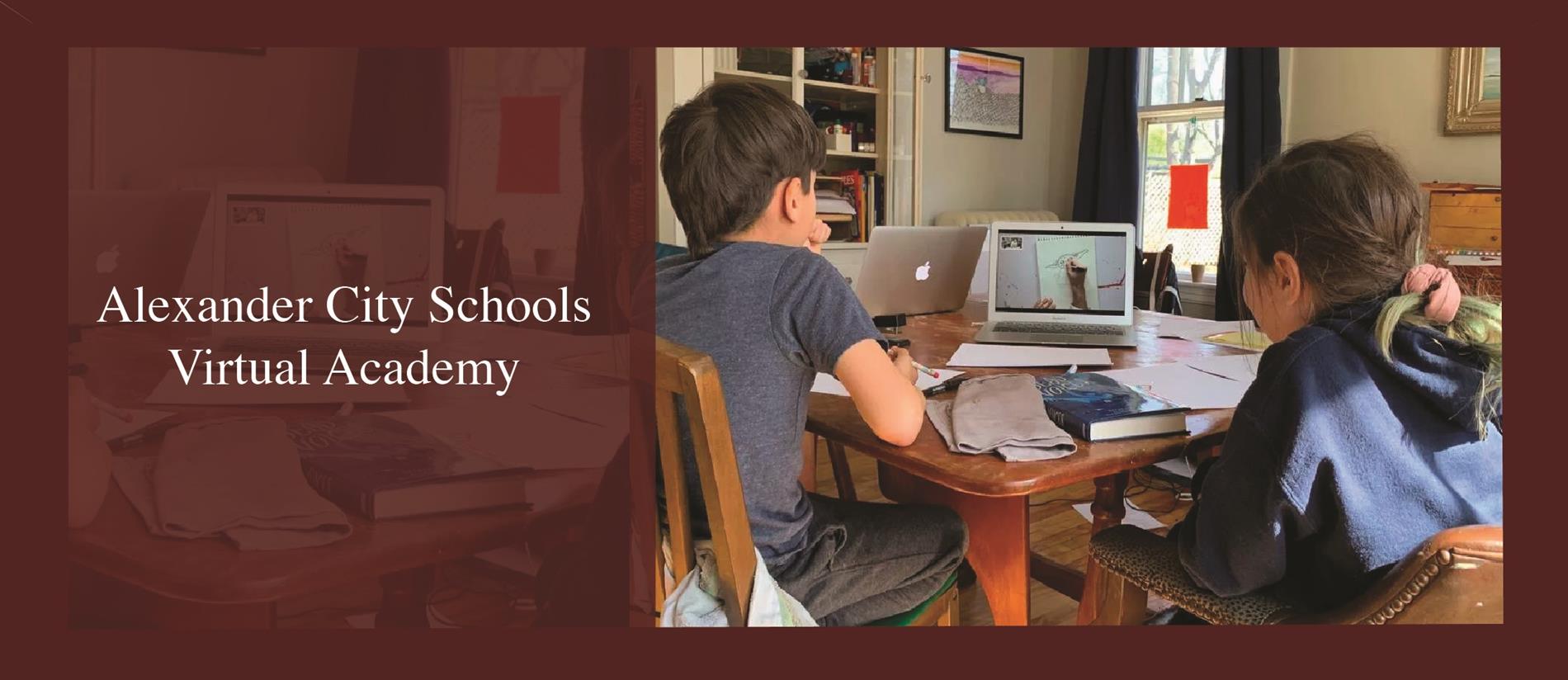 Angela Strickland - 256-234-8625
Dr. Mary Holloway - 256-234-8600
Angela Strickland - 256-234-8625
Dr. Mary Holloway - 256-234-8600
Dear Virtual Families of Jim Pearson and Stephens Elementary Schools,
We hope this letter finds you doing well and preparing for the upcoming school year. Our virtual teachers have been calling to confirm with families who have chosen our Virtual School platform for learning this year. If you have not received a call, please call your child's base school so that we can connect with you!
(Jim Pearson - 256-234-8625 / Stephens - 256-234-8631)
As we prepare for the 'Virtual Return to Learn' at our elementary schools, we would like to provide you with the following information that will help ensure a smooth transition for this new way of learning! ​This information applies ONLY to families that have completed registration and who have already confirmed virtual learning with our virtual staff.
1 - ​Virtual School Orientation​ will be held on ​TUESDAY, AUGUST 18th at 6:00 at the Benjamin Russell High School Auditorium​. Families may choose to participate virtually for orientation. An invitation will be sent to the email that each parent provided on the virtual school intent survey. At your orientation, you will meet your child's virtual teacher and receive general information about learning platforms, classroom expectations, and supplies that your child may need. You may pick up your child's device at the conclusion of the meeting if you attend in person. However, please note that if you did not return your school-owned device from last spring's distance learning, a device will not be issued for the 2020-21 school year.
2 -​ An additional ​Device Distribution​ day will be held on ​WEDNESDAY, AUGUST 19th from 8:00 a.m. to 2:00 p.m.​ Devices will be distributed in a drive-thru manner at your child's base school. Again, if you did not return your school-owned device from last spring's distance learning, a device will not be issued for the 2020-21 school year.
3 - ​On August 20th,​ ​Virtual Learning begins​. Your child's teacher will send a meeting invitation prior to the first day of Virtual School. On the first day of virtual school, you will receive more specific information regarding login information, virtual platforms, and tech tools that the teachers and students will be using in the virtual classroom. Your teacher will also begin teaching your child how to login and how to use those tech tools. The first few days of virtual learning will be held through virtual meetings on platforms like Zoom or Google Meet so that your teachers can effectively share this critical information with you and your child.
4 - ​Beginning of the Year assessments ​will be given in late August. Students are required to take these assessments at their base school. Your virtual teacher will schedule appointments and provide further information for your assessment expectations.
Although we all know this school year will look different for all of us, we are committed to providing excellent instruction to ALL of our students in Alexander City Schools! Please feel free to contact us with any questions or concerns!
Mrs. Angela Strickland, Principal Mrs. Ivy Pike, Principal
Jim Pearson Elementary School Stephens Elementary School
Information Regarding Virtual Academy
Frequently Asked Questions
1. If I decide to enroll my child in the virtual program, what steps will need to be taken: You will need to complete all enrollment/registration activities in Registration Gateway for your child. This includes any 2nd party affidavits that need to be completed. You will also need to complete the Alexander City Schools Virtual Academy Enrollment Form. You may use this link to access the form: https://forms.gle/fRWNmeRygZrFvk5a9

2. How will onsite assessment occur? Students will be required to come onsite to take some assessments, such as benchmarks and standardized tests.
3. How will test security be handled when tests are not taken onsite? We will have a test security platform that will lock down the browser and could monitor movement and voice in the room where the student is taking the test. Some programs will kick the student out of the test if motion or the sound of a voice is detected. We have not chosen a security method at this time, however we are investigating to find the one that best fits our needs.
4. Will tuition be charged for out of district virtual students? We are still in discussion regarding whether to charge tuition to virtual students or not. This is a decision that would have to be approved by the board. Should we decide not to charge tuition there will be a technology fee.
5. When will benchmarks be taken? Benchmarks are taken within the last 2 weeks of a grading period. Usually those dates are decided and communicated to students prior to the start of a nine weeks grading period.
6. Will virtual students be allowed to participate in athletics? Yes
7. When is the deadline to sign up for virtual school? July 30, 2020 11:59 PM
8. Will virtual school students take electives? Students in grades 8-12 will take electives because they are required to obtain a specific number of credits to be in good standing and on track to graduate.
9. How will we keep the small children from sharing masks? We are depending on parents to help us teach students that it is inappropriate to share masks. We will begin on day one teaching students not to share masks or other personal items, including school supplies.
10. Will my child continue to receive special education and/or intervention services? Yes, all required services will be provided. The services may look different than what is provided in the classroom.
11. Will there be a student orientation? Yes, we will have a Virtual School Orientation. The date has not yet been decided.
12. When can we pick up technology devices? Students in grades K-8 that still have their devices need to return those to the school from which they received it. We will redistribute these devices at a later date, prior to school starting.

13. What will the traditional/brick and mortar school look like? The traditional day will be reflective of a normal school day with exceptions made for social distancing and other recommendations from the Alabama Department of Public Health. For more specific information pertaining to a particular school individual school plans will be posted to their particular website and linked to the District Return to Learn Plan no later than August 3, 2020.
14. If a high school student is enrolled in the virtual school, will they be allowed to come to the school to take classes that have to be taken at school, such as Drivers Education? No
15. If I do not have internet access, will it be provided for my child? If you do not have dependable internet access, we will work with you to secure dependable access.
16. If school has to shut down, will the traditional students go virtual? If school has to shut down, students will return to remote learning for the duration of the shut down.
17. Will devices be provided for virtual students? Yes.
18. When/where will we pick up devices? The date and time for distribution of devices has not been determined yet.
Alexander City Schools now offers a full virtual option for students in grades K-12 for the 2020-21 school year. This option differs from the remote learning experience that students had in the spring of 2020 during the schools' closure. Alexander City Virtual Academy (ACVA) will provide a consistent curricular and instructional delivery model. Students will be assigned to a class or classes with dedicated Alexander City School teachers. Standards-based content in mathematics, science, social studies, and English language arts will be provided via the Schools PLP Curriculum for K-8 students. In grades 9-12, core and elective courses will be offered via the Schools PLP curriculum and ACCESS Virtual Learning. Many electives will be available beyond the required core, including courses such as advanced placement, dual enrollment, foreign language and career tech. The curriculum in the Online High School meets all Alabama State Department of Education Course of Study Standards. Graduates will receive a high school diploma in this program and may be able to earn an Honors Diploma with additional classes. An informational guide will be provided via the district website under the Alexander Virtual Academy tab. You will find answers many frequently asked questions. Alexander City Virtual Academy will adhere to the Alexander City Schools Calendar and COVID-19 safety guidelines.
· Virtual students will utilize activity and participation through the virtual curriculum as attendance. · Students who are absent should timely submit a note for their absence to the school administrator according to board policy. · In the case of COVID related absence, the student is strongly encouraged to notify the school administrator and submit a physician's note in a timely manner to the school. · The local school administrator will deliberate extenuating circumstances related to COVID-19.
Students Expectations for Virtual Learning
· The ACS Student & Parent Handbook policies and procedures are in effect during ACVA in regards to attendance, behavior, academic integrity, dress code (when videoing with others), and technology acceptable use policy.
· ACVA is a rigorous program in which most learning takes place at home.
· Families will need reliable Internet at home in which to connect the iPad (lower elementary students K-2) or Chromebook (grades 3-12) for learning.
· Virtual Learning takes consistency, discipline, and dedication from students and parents.
· Some assessments are required to be taken on site at the virtual academy.
Students enrolled at ACVA are assigned coursework that comes completely from a digital platform and is facilitated by ACS and ACCESS teachers
• Student intent forms are available digitally on the Alexander City Schools website.
• Enrollment will remain open until further notice.
• Individual meetings will be held with parents who have enrolled their student into the Alexander City Schools Virtual Academy.
• Students enrolled in the virtual academy will start school the same day as ACS students who have selected the traditional (brick and mortar) option.
• All ACVA students will be required to participate in daily check-ins